About us
At Frank K. Wyatt Marine Surveyors, we are trained Yacht and small craft surveyors operating at the highest of standards in the industry to provide boat owners, purchases, finance companies and insurers an exceptionally competent Yacht Surveying Service.  Our focus is to carry out a comprehensive series of inspections on power and sailing vessels.  Surveyors are always available for further discussion of the report contents and  always willing to go the extra mile to ensure the client is satisfied. To assure objectivity Marine Surveying is the only service offerd by this office.
Marine Surveyors:
Capt. Dean Ford 
Marine surveyor-Frank K. Wyatt Marine Surveyors, Incorporated. He is dedicated to giving you the best service possible with an unbiased inspection.  S.A.M.S – Surveyor Associate. Member of American Boat and Yacht Council (ABYC). 100 Ton USCG Master license with sailing and towing endorsements. Completed Certification of Uniform Standards of Professional Appraisal Practices (USPAP). Extensive sea time on numerous types of vessels in US and international waters. Completed a course in corrosion at ABYC. Currently completing an apprenticeship require by the National Association of Marine Surveyors (NAMS). Experienced with hull construction, machinery and propulsion systems in large and small craft. BA/BS in communications & computer graphic design at San Diego State University.
_________________________________________________________________________________________________
 John Jay Flachsenhar, Jr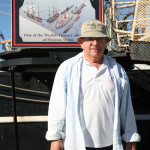 Senior Surveyor. Certified NAMS Surveyor Member since 1977 NAMS-CMS.  Graduate Engineer U.C. Berkeley. Extensive experienced with hull and machinery associated with ships, large power craft and small craft as well as marine facilities. Commercial Vessels under 1600 GT.
_________________________________________________________________________________________________
Capt. Joe Darlak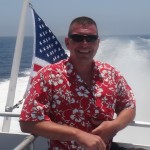 He has over 20 years of U.S. Navy shipboard experience. Joe is a 1990 graduate of the U.S. Naval Academy with a Bachelor of Science degree in Mechanical Engineering and he earned a Master of Science in Mechanical Engineering from the Naval Postgraduate School in Monterey, CA. He has been to sea on 15 classes of U.S. Naval/U.S. Coast Guard vessels.  He was Chief Engineer of a Spruance Class Destroyer; Material Officer (Squadron Chief Engineer) for a squadron of six destroyers; and he commanded an Oliver Hazard Perry Class, Guided Missile Frigate.  During his Navy career he was involved in many shipboard operations/equipment inspections and surveys.  He has 1600 ton USCG Master's license and Chief Mate Unlimited.  On the civilian side, he lived aboard a Morgan 35'  in Jacksonville, FL and a 35' CT in Honolulu, HI for a total of approximately 6 years.
 .
 All of the surveyors are independent contractors